2016 heißes Sale Qdy Model Ladel Traveling Overhead (Brücke) Crane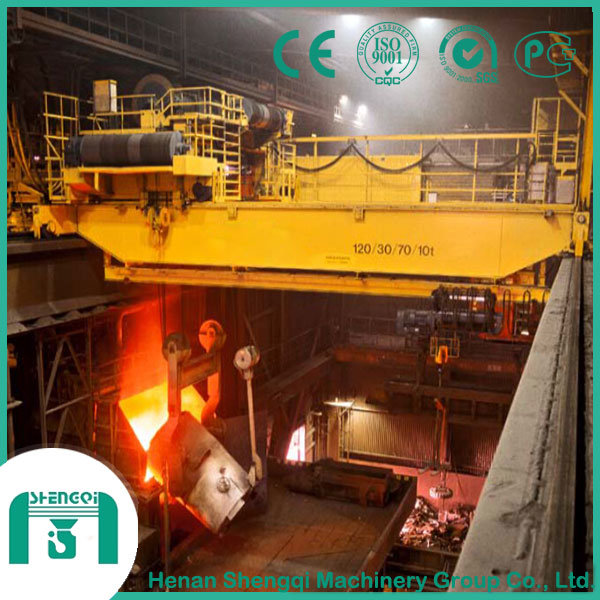 2016 heißes Sale Qdy Model Ladel Traveling Overhead (Brücke) Crane image
Grundlegende Informationen.
Modell Nr.
QDY Model Ladel Crane
Spezifikation
Capacity: 5-100T, Span: 10-32M
Produktionskapazität
150 Sets Per Year
Produktbeschreibung
2016 Hot sale QDY Model Ladel Traveling Overhead (bridge) Crane
Ladle overhead crane is special equipment to lifting liquid steel ladle. The main hoist is operated at high speed so as to fit in high productivity of heat handing and heat transport. The speed control range speed control ranges can be realized by an alternative of variable stator voltage control or frequency control of motor speed.
The ladle overhead crane designed with safety and reliability, advanced technique, rigid structure, good economy and durability, and easy maintenance.
Ladle overhead crane are divided into four types:
– Double-girder two-rail type (the ladle cranes with smaller lifting capacity)
– Double girder four-rail type (the ladle cranes with smaller lifting capacity)
– Four-girder four-rail type (ladle cranes with larger lifting capacity)
– Four-girder six-rail type (the lade cranes with extra lifting capacity)
The ladle overhead cranes have following options.
1. Variable speed control for each mechanism
2. Rotary lifting appliance;
3. Variable distance between gantry hooks;
4. Overload limit and warming display;
5. Load weighing and display;
6. Three dimensional lifted point location and display
7. PLC control and fault detection, display, record and printing system
8. Protection of cranes at the same bay from impacting;
Just tell us your detailed requirement, Ladle overhead crane will be tailored made for your projects.
Configuration
2016 Hot sale QDY Model Ladel Traveling Overhead (bridge) Crane
1- Lifting Mechanism
– Open winch trolley combined with motor, gearbox, hydraulic brake, drum, sheaves, coupling, brake drum, magnets etc.
– Rigid box type trolley frame
– Wound Rotor 3-phase asynchronous metallurgy motor
– Harden Teeth Gearbox
– hydraulic Drum Brake ( double brake to assurance the safety)
– Plate-rolled Drum kits
2-End Carriages
– Forged Flanged wheel
– Rigid welded box type beam
– Compact layout
3-Griders
– 2 main girders are welded box type
– Material: carbon steel with high quality of Q235B or Q345B
– The main girder is connected by strength bolt.
– Weld joint tested by X ray or ultrasonic examination;
– Modula design
– Designed Deflection≤1/800 of span
4-Control
– Cabin control
– Independent pendent control as option
– Wireless control as option
5-Electric Part
– Conductor power supply
– All hoist and crane movements are independent and can be run simultaneously.
– Protection degree IP55
-The components are positioned in a maintenance friendly way, and the whole layout provides with good protection
– Festoon cables are suspended on cable saddles, fixed to cable trolleys, running in a galvanized C-track.
6-Painting
– Corrosion protection through rust removal by mechanical shot blasting SA 2.5
– First layer of coating epoxy 30 microns
– Second layer of coating epoxy 30 microns
-Third Layer of coating of polyurethane 40 microns
-Average thickness: about 100 microns
-Color: yellow or Orange as per requirements
7-Safe Protection
– Emergency-off switch
– Overload protect
– Earth protection
– Zero Position Protection
– Cross travel and long travel protection
– Lifting travel protection
– Overheating protection of motor
– Alarm Bell and Lamp
Features Advantages
2016 Hot sale QDY Model Ladel Traveling Overhead (bridge) Crane
– Heavy duty material handling
– High efficiency
– High performance components with economical price
– Economical spare parts
– 2 years warranty
– Easy maintenance and Easy replacement of components
– Low cost of transportation cost and fast installation
Lifting Capacity(t)
200/50
225/65
240/80
280/65
320/80
Working Class
A7
A7
A7
A7
A7
Span(m)
28
27
22
21
24.5
Lifting Height
Main hook
26
32
25
24
28
Auxiliary hook
26
34
27
26
32
Speed
Main hook
6
11
7
10
7.5
Auxiliary hook
10
11
9.6
12
10
Main Trolley
41
41
35
30
29
Auxiliary Trolley
38
39.5
38
39
39
Crane
78
84
80
76
58
Dimensions (mm)
H
6900
7000
7000
7600
7800
H1
6000
5990
5650
6400
6500
H2
1650
1400
1350
1350
1500
B
1700
17300
18500
19200
19500
B1
10000
10100
11250
12000
12500
B2
3200
3300
3800
3800
5000
Limit dimestion (mm)
b
450
450
450
500
500
H3
6000
5800
5500
5900
6000
H4
1000
1000
1500
1500
1700
S1
2600
2500
2800
3200
3300
S2
3000
3000
3200
3500
3500
S3
2000
2200
2400
2400
2600
S4
1600
1600
2800
2800
3000
Max wheel load(kN)
530
550
545
595
650
Steel track recommended
QU120
Power source
3-Phase A.C. 380V 50Hz


Tailor Made

2016 Double Girder Overhead (Bridge) Ladel Crane 80 Ton
– Girder can be divided into pieces and connected with bolts at site to reduce the transportation cost
– Frequency converter systems realizing infinitely variable speed control and minimal load swing for your precise loading and unloading requirements.
– Big span over 35M
– High traveling speed for high working efficiency

Crane Inquiry Data

2016 Double Girder Overhead (Bridge) Ladel Crane 80 Ton
Crane Inquiry Data Sheet
Customer:
Date:
Crane type
Overhead Traveling Crane( double girder Single girder )
Gantry Crane( double girder Single girder )
Capacity (T)
Main Hoist
Aux. Hoist
Bridge
Required Hook Lift(M)
Main hoist
Aux. Hoist
Runway Length(M)
Duty Group
A1-A8 depends on your actual requirements
Lift Numbers
times per hour
Work hours
hours per day
Ambient Temperature
Max.
Min.
Material Handling
Crane Operation
indoor
outdoor
Power supply
Phase Volts Hz
Control Method
Cabin Floor Wireless
Special Accessories Desired
Headroom Clearance(mm)
CONTACT US
Wayne He
Mobile: +86 13770780269
Telephone: +86 0371 86253526
Co. Website: http://www.shengqicrane.com/
Our company provides the service for overhead crane and gantry crane designing, developing,
manufacturing, transporting, installation, operator training and maintenance. For more information and details about our products, including design of the crane, safety features of each kind of crane, application of the machine, technical parameters of the crane, production process, after-sale service, main part of the crane,package for the crane, loading pictures of cranes and all other information about our products, please kindly contact with MR.Wayne , MR.Wayne will give you a support as much as possible.

Your kind inquiry, Our sincere quotation!





Wer wir sind China 2016 heißes Sale Qdy Model Ladel Traveling Overhead (Brücke) Crane Herstellung und Lieferant,Sie können weitere Informationen per E-Mail erhalten, Sie erhalten einen günstigen Preis oder einen Fabrikpreis.
Tags:
2016 heißes Sale Qdy Model Ladel Traveling Overhead (Brücke) Crane
,
Brückenkran
,
Kran